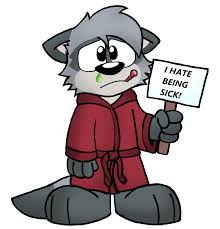 When a person is spiritually awakened,
He/she is aware of the fact that their present sickness is result of their own actions in the past.
We should have the clear understanding about the law of karma according to which 'As you sow, so shall you reap'. Your present situation is the result of your past actions which you have done in earlier life.
"Karma is karma. Karma is in life. You do the wrong things; you get the wrong things out of it".  Antonio Brown
The supreme soul keeps an account of our actions of all life cycles and you face the consequences of each and every action done in near or distant past.
It is rightly said that whatever you do today will decide your tomorrow.
With this understanding of the law of Karma, you will be able to take responsibility of your actions and its consequences. When you are closer to God, you get the immense power to cope up with the worldly issues which includes sickness.
You will be able to sail through any kind of sickness or even a major physical illness with lesser pain if you have God in your remembrance. Hold thy hand and he thy sail you through the world.
If you want to get united with the Supreme Soul in his heavenly abode, you have to work towards your spiritual development. This spiritual understanding teaches you how to turn mountains into molehills.
When you meditate, you bring in lot of positivity and energy to your body which in turn helps you to heal faster and better. As you feed positive thoughts to your mind, your body starts reacting positively to the treatment. Thus, when you are sick and feeling downward, don't forget to pray to him as he is the Creator and our Savior.
If we perform each action keeping in mind the law of Karma, we will surely bring in a healthy future for ourselves.
For example:
One can bring a lot of subtle energy and strength to oneself if he/she engages his/her body, mind and wealth in the service of humanity.An adverse effect, on the other hand, is produced when these same things are used in a negative way.
---
Meditate with us! At no cost AT ALL… & understand relation between Sickness & Karma !
Also Read:
Healing Meditation