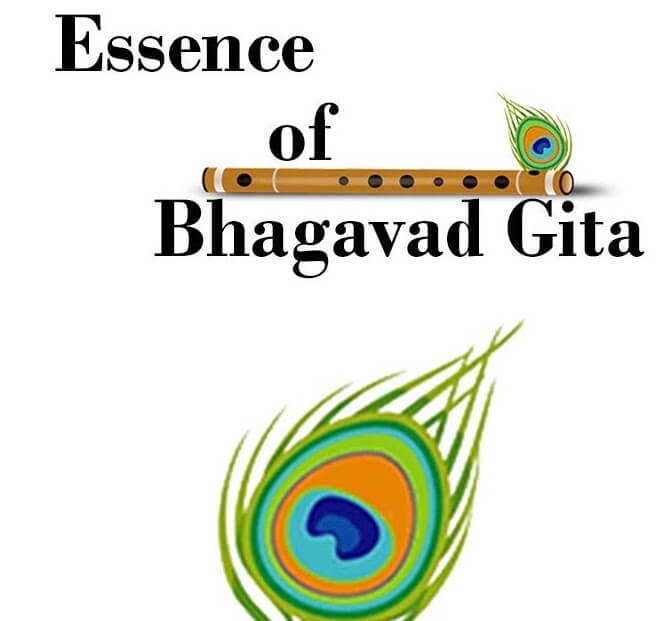 Several names of God have been mentioned in the Gita and one of them is 'Krishna'. Because of the wrong perception about this name, there have been many misconceptions and blunders about Gita. So it is necessary to have clear understanding about this.
It is widely known that all names of God are indicative of His attributes or divine functions. Therefore, the name 'Krishna' used for God is also not a proper name. Further, this term 'Krishna; is not indicative of darkish complexion (Shyam Varna) because God is just the form of light.
That's why it is mentioned in Gita that God is ever like the Sun, and is ever distant from darkness. He can be seen only through divine insight. This also means that one of God's spiritual names is 'Krishna' but it cannot be used for God to mean darkish complexion (Shyam).
It is used just to indicate His quality of being attractive or blissful, and His part of redeeming yogis from their sins. But, since this meaning of the word 'Krishna' was not know, the mistake rather blunder of considering it as a proper name or the name of an embodied being was made, and thus Krishna with a peacock crown has been considered the Sermonizer of Gita Gyan.
Just think, if the name – 'Krishna' is not indicative of the qualities and divine functions of God, and if it is a proper name, then only this name would have used in Gita. But we all know that in Gita other name like – Janardhan, Keshav, Hrishikesh, Govind, Achyuthave been used and all these are descriptive of His attributes, divine functions.
So, it is not inappropriate to consider the name 'Krishna'alone as His proper name? For example, His name 'Janardhan'is indicative of the fact that He receives the prayers from the people.
His name 'Keshav'is indicative of His divine functions of creation. Sustenance & destruction through Braham, Vishnuand Shankarrespectively.
Just like these His name 'Krishna'is also indicative of His being attractive and blissful. However the truth remains that His real form is a point of Light.
WHO WAS ARJUNA?
It is another secret to be understood that just as 'Krishna', 'Janardhan', 'Keshav', are attributive names of God, the point of light, the names – 'Arjun', 'Anagh', 'Parantap', 'Gudakesh' are indicative of that medium whose body God used in order to sermonize Gita Gyan.
If 'Arjuna'was a proper name, then why should other introductory names be used? For example,'Anagh'is indicative of being free of sin; 'Gudakesh'is indicative of being a victor over sleep, 'Parantap'is indicative of being a great yogi, 'Bharat'is indicative of a person engaged in making constant effort to be pure and joyful. All the above names have been used for 'Arjuna'.
In the same way, the – 'Arjuna' has been used for Brahma, only to indicate his 'purity'. Brahma is considered to be the greatest among all wise persons because GitaGyan,the knowledge of Gita was given through the corporeal medium of Brahma.Brahmais considered to be the father of the creation or Great-great grand father" because God, the Supreme Father entered his body in order to impart knowledge of Gita.
THE CHARIOT OF ARJUNA
Body has been compared to 'costume' or 'field' in Gita. Similarly, it is also compared to 'chariot' of which the mind functions as the horses, and the intellect as reins of the horses.
The person who adopts Godly Knowledge as to hand over or surrender these reins of his intellect to God.
 Prajapita Brahma's body being the chariot (Rath), his soul being the charioteer (Rathi), God who descended into his body to impart divine knowledge of Gita, becomes the co-charioteeer or Sarathi.
It is also mentioned in Gita that 'Brahmins' were born out of the month of Brahma.
But since the authors of Gita did not understand the real meaning of the terms chariot, charioteer, co-charioeer etc., they have shown the gross figure of 'Arjuna' and 'Krishan' occupying a wooden chariot with wheels and horses, and thus create total distoration and utter confusion.
THE PRESENT AGE & GITA KNOWLEDGE
God being spiritual father of all souls would obviously not deliver GitaGyan to one Arjuna only. But through the mouth of Arjuna or Brahma, He imparts divine knowledge for the entire humankind. At the end of Kaliyuga, innumerable women are stripped of their clothes, people indulge in gambling, drinking alcohol, and are almost corrupt in their dealings, customs and food habits.
If you reflect deeply, you will find that the same circumstances are prevailing in the society again today.
On one side missiles etc., have been invented for the huge destruction of the devilish world, while on the other side God is once again sermonizing Gita-Gyan, entering the body of Prajapita Brahmam using his lotus-mouth, and teaching His Easy Rajyoga Meditation.
Today, on one hand there are people in large numbers whose personalities can aptly be described by the names like 'Dushasan', 'Duryodhan', 'Dhritrashtra', 'Kaurava', etc., while on the other hand there are also the few 'Pandavas', who remain in loving remembrance of God and wage non-violent war to attain victory over vices like lust and anger etc., through the power of spiritual knowledge and Rajyoga Meditation
---
If the 'True Essence of Bhagwad Gita' is read in this perspective, everyone will become Arjuna & can win over his/her own vices.
If anyone interested in acquiring further knowledge on the subject, and those who want to learn RajYoga Meditation & Experience 'GOD', can avail of free services being rendered by the Centres of Prajapita Brahma Kumaris Ishwariya Vishwa Vidyalaya in many parts of the world.
Meditate with us! At no cost AT ALL… & Find the True Essence of GITA & Experience 'GOD'
Also Read:
Experiencing God