God Has Already Arrived on this Earth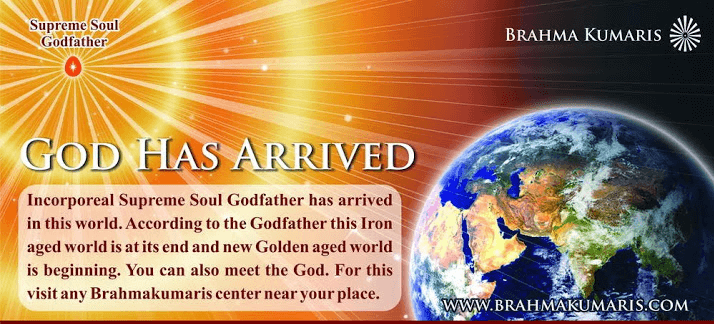 We want to inform the good news that Supreme Soul, the Godfather has incarnated in this world.
You may not easily accept this fact, but it is absolutely true that the Supreme Soul has incarnated on earth in order to purify this impure world once again.
The Almighty Supreme Soul has incarnated in Mount Abu located in Rajasthan state of Bharat (India) and is performing his Secret Act of re-creating Golden Age through the medium of Prajapita Brahma Baba.
The Supreme Soul whom we know by different names such as God, Ishwar, Allah, Bhagwan… is incorporeal spiritual light. He is the Supreme Father of all human souls.
He is Ocean of Bliss, Knowledge, Peace, Love, Joy, Purity, Power. He is free from the cycle of birth and death.
If you wish to witness the creation of the Golden Age, visit any of our centers all across the Globe and be a part of the miraculous recreation
This auspicious message is being broadcast to all people of the world as per the Supreme direction of the Supreme soul. The Godfather.
---
You can also Meet God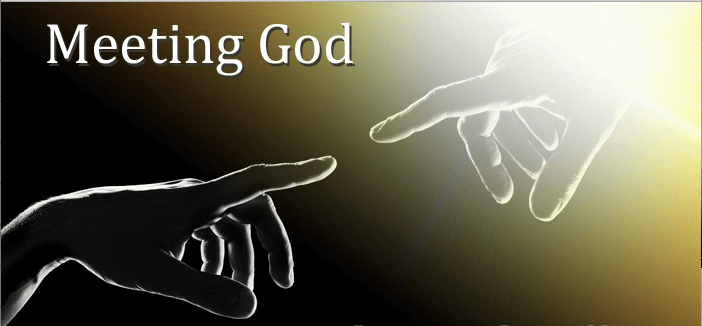 You have probably undertaken religious devotion, chanting of mantras, pilgrimages, fasting etc. in order to have a glimpse of the God.
As that Supreme being has descended to this earth now, you can also meet him and fill your life with bliss, peace and happiness.
Only one in a billion is able to identify him who has incarnated in the body of an ordinary person, and you can be one of those fortunate souls.
In order to meet the Supreme Soul and to attain the status of deity in the forthcoming Golden Aged World (Paradise), you can visit any Brahma Kumari Service Centre near your place, learn Godly Knowledge and Rajyoga to elevate your present and future life.
We at Prajapita BrahmaKumaris Ishwariya Vishwa Vidyalaya are helping people to identify the truth and tread the path of utmost happiness and bliss at no cost.
---
It is Now or Never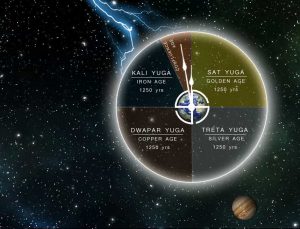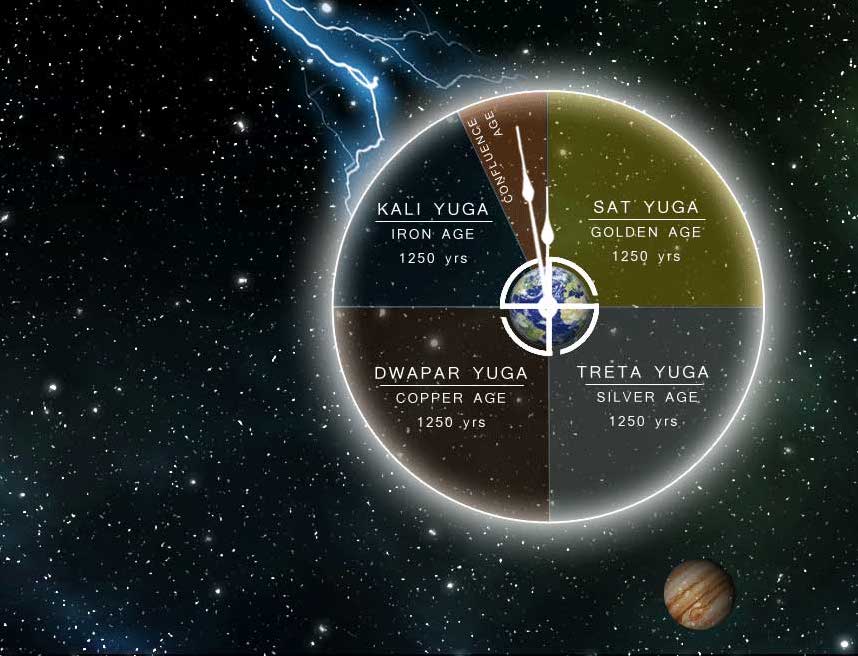 Time is moving very fast towards total destruction of the old degraded Iron Aged world and reestablishment of new golden Aged World.
Any of your breath can be the last one. If you waste this precious time, you won't get an opportunity even to repent. So, start living in present and work for your soul's betterment.
you should certainly visit the nearest Brahma Kumaris Service Centre, understand the true spiritual Knowledge revealed by God, identify the Supreme Soul, and experience the utmost bliss with him.
If you neglect this Godly message even after reading it in the end you should not complain that you were not told about God's arrival in this world.
Remember, It is Now or Never. God has arrived in this world, and time is transforming very fast.
Act fast and hop into the bandwagon of the pure souls who will form the New Golden Age World (Paradise) under the guidance of The Supreme Soul.
---
Destruction of old Iron aged world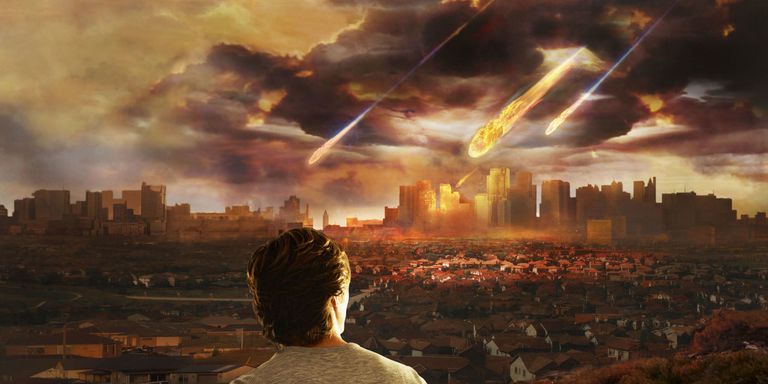 As per God's revelations, this old Iron aged world will be going to destroyed in near future.
All the five elements of nature will be in turmoil causing Earthquake, Tsunami, Floods, Cyclones, Famine etc. millions will suddenly entered into the mouth of death.
Along with this there will be Third Nuclear world war which will result in large scale destruction and loss of human lives.
In India there will be civil war causing bloodshed and loot all around. Currently, we see that the situations of several places are getting worse every day, natural calamities are increasing everywhere and war like conditions already prevails in several countries.
If you wish to enter into the Golden Age World after the destruction of the Iron Age World, act today and visit any of the nearest Brahma Kumaris Service Centre and take shelter in God's shadow.
Start preparing for your betterment by attaining Godly Knowledge and learning RajaYoga Meditation.
---
Establishment of new Golden Aged World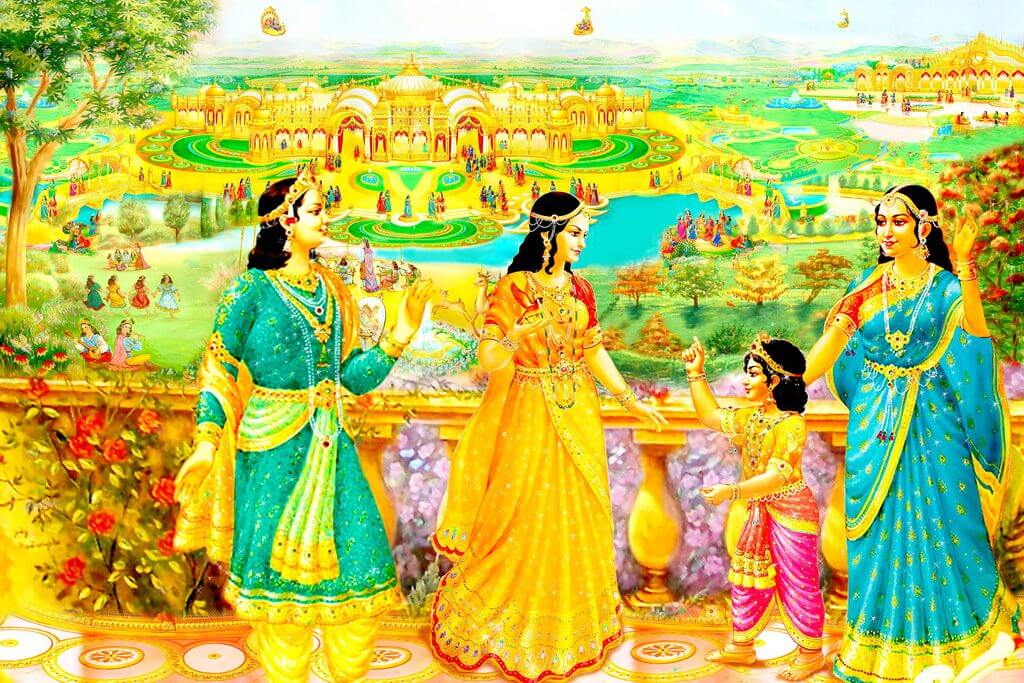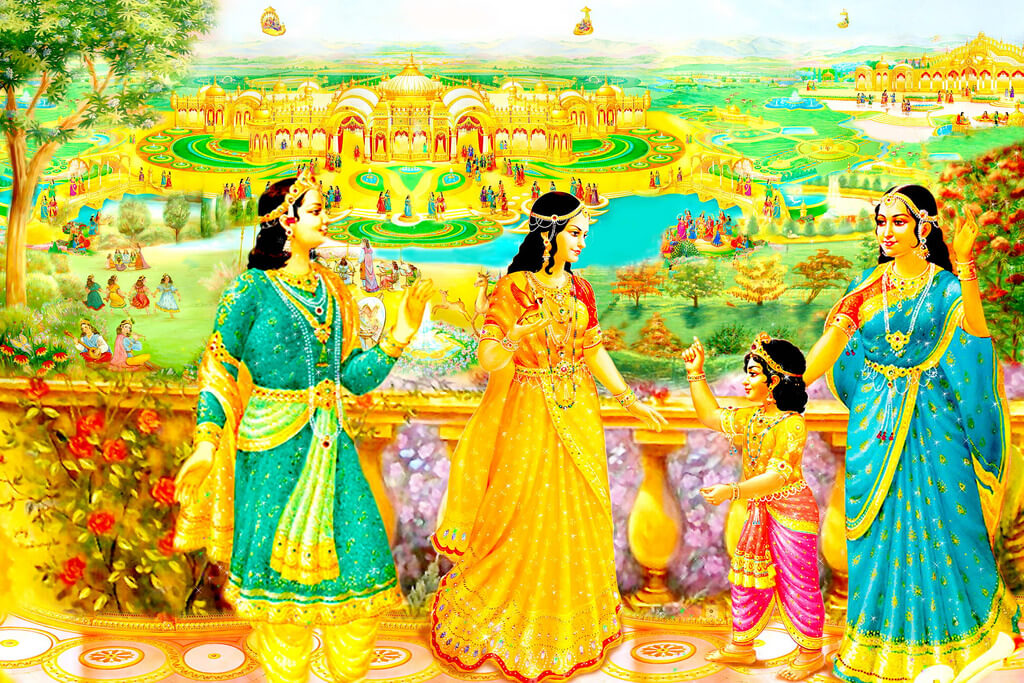 God Says that after the forthcoming great destruction of old world, the new Golden aged world will come into existence again and there will be only one religion, one nation and one language.
Every person will be pure and righteous deity. There will be hundred percent happiness and peace.
Nature will be pristine pure and joyous, there will be such love among all creatures that cow and lion will be drinking water at the same spot on the river bank. This is what we call, Heaven, Paradise, Vaikunth and Garden of Allah.
If you wish to be part of the group who are following God's direction and working for the enrichment of their mind, body and soul; visit any of our centers spread all across India and abroad.
This Golden Era will be ruled by Shri Lakshmi and Shri Narayan. Only those who follow God's directives in the current Confluence Age will become a part of the heaven/paradise.
Glimpse of Golden Age:
---
The Condition of the World Today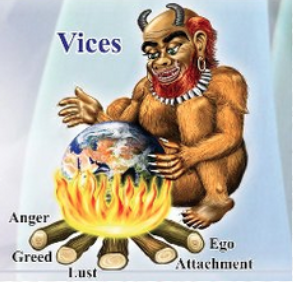 Currently the world is full of corruption, cruelty, falsehood and indecency. Unrighteousness is at its pinnacle.
The pitcher of sin is at the brims. Every person is filled with sorrow and peacelessness. The entire world is burning over the Fire Of Vices – lust, anger greed, attachment and arrogance.
This is that time when God has to incarnate in the Corporeal World in order to exterminate evil and unrighteousness, and to re-establish, religion of righteousness and Truth.
All religions believe that God has to come to this world when ever unrighteousness, increases in this world.
Currently we are passing through the transitional period when Iron Age is ending and Golden Age is dawning. This auspicious time is called Confluence Age. 
This is the time when God Himself incarnates into this world, purifies human souls and re-establishes the Age of Truth or Golden Age.
One needs to be pure and at peace to be a part of that world of utmost happiness and bliss. You can learn to be at peace in all situations by following God's directives.
Visit the Prajapita BrahmaKumaris Ishwariya Vishwa Vidyalaya to learn the art of living in present and controlling what feeds your mind.
Get a control over your vices and increase your chances of entering the Golden World by learning RajaYoga Meditation at any of our centers at no cost.
---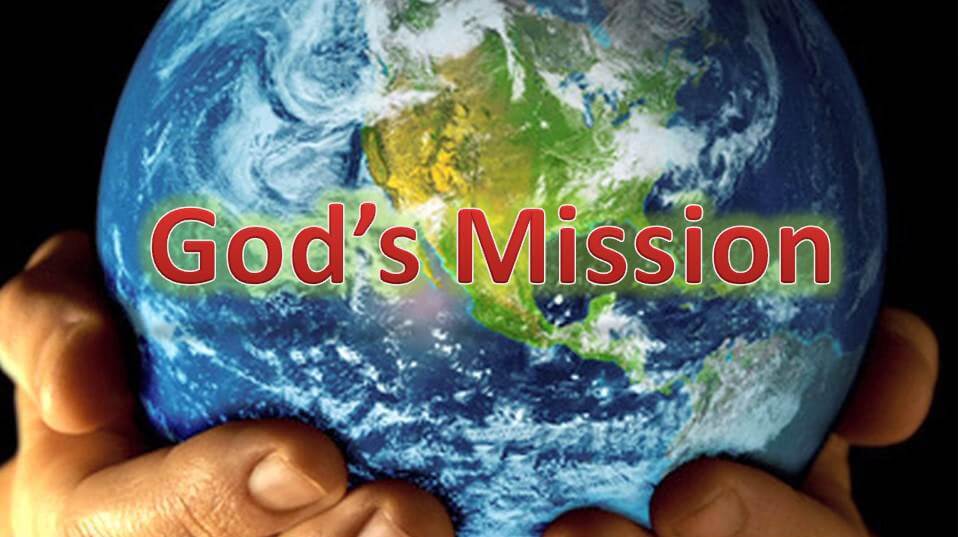 God has come to liberate all souls from sufferings and to transform the old degraded Iron Aged world to new pure Golden Aged world again, and to transform vicious human beings to virtuous deities.
Supreme soul, the Godfather has come to purify all souls of this world and take them back to sweet silence home called Brahmalok or Soulworld.
The Supreme Soul is the Ocean of Knowledge, now teaching we Souls about the Spiritual Knowledge and easy Rajyoga.
Easy Rajyoga is a spiritual meditation by which souls are absolved of their sins and become absolutely pure again. By the practise Rajyoga, human souls become divine souls once again. Any person can practise Rajyoga Meditation very easily.
If you wish to learn the easy RajaYoga visit any of our centers located all across the globe and be ready to be part of the Golden Age World.
---
Its Free.
or Visit
Centers in India
Centers in Overseas