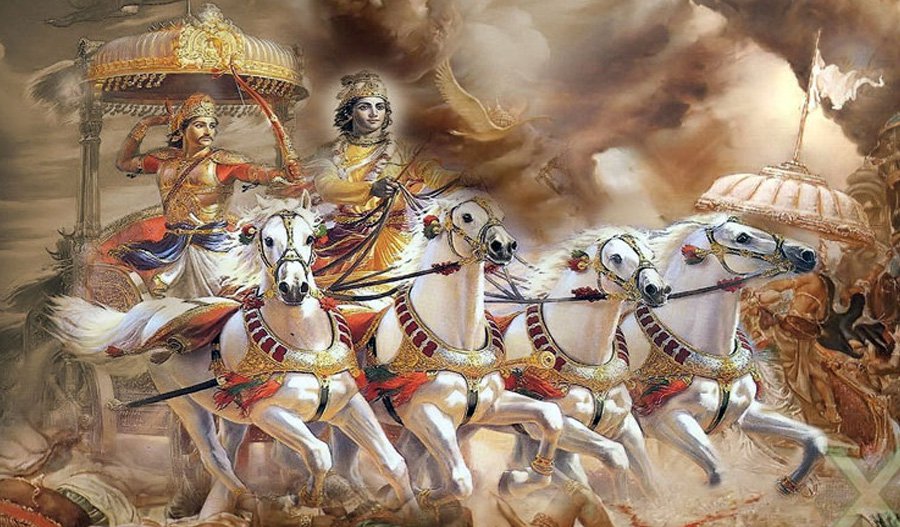 In this connection, it seems necessary to clarify why the Gita insists on a war.
The truth is that man, because of his ignorance and body-consciousness, keeps committing sins from one life to another, with the result that, his mind continually deteriorates so that a stage is reached when he is totally subjugated by vices-sex-lust, anger, greed... etc.
– and internally admits defeat and gives up all hope of ever attaining victory over them.
He considers vices as even natural and accepts his fallen state as normal, so that he ceases all spiritual efforts to overcome them, taking them to be too powerful to be withstood.
Hence, God does not impart Gyan in an ordinary manner.
He says that this Gyan is like arrows, which are divine arms and weapons, and calls upon His children to rise and conquer the vices by means of these arms of Godly Knowledge.
Modern psychologists also say that a man, when faced with a stronger enemy, either Fights him or Flights away from him.
'Fight; and Flight' are the two instincts in man.
But a person, dominated by vices, does not face it. Like a sanyasi – a recluse – he runs away from duty and seeks refuge in seclusion but when confronted with vices, he turns back avoiding the fight. But, God exhorts man now to conquer vices through the power of Gyan, Yoga and divine qualities.
That is why, this effort has been compare to a 'fight' or 'war' so that man should not take it casually, but fight vices in the true war-spirit and with all the force of his positive instincts for fight and conquer them.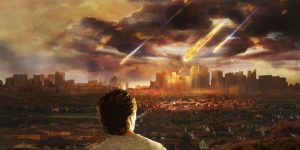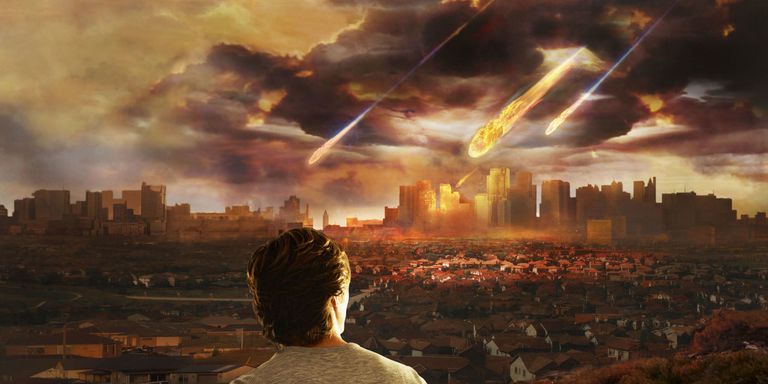 Again, when God's descent on earth takes place, the whole creation is in a state of turbulence and turmoil; there is no peace and rest anywhere. If one is struggling to earn his bread, another is fighting the battle for his property.
If someone is fighting the battle for election, another is agitating for his party.
Hence, God says: "The most rewarding fight is the one against vices; prosperity and self-rule can be achieved only through this spiritual war.
Heaven can be established only through this internal war.
Hence if thou shouldst remember Me and wage war against thy vicious tendencies, peace will automatically be thine and thou wilt be liberated from the bondage of sin and misery for ever."
Again, a warrior has always an aim before him.
Fixing his eyes on the enemy, and confident of his skill, he hits the target so as to achieve victory.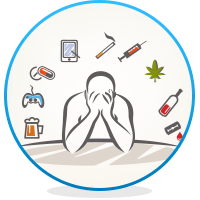 A person, endowed with Godly Gyan, has to do just the same, He hears the points of Godly Gyan, sharpens them with yoga and then uses them like spiritual arrows to kill vices, the arrow of Gyan is meant only to conquer a vice which is simply an enemy.
Hence, God has compared this internal war against vices, with a view to attain purity, to lethal war
THE AIM - ASCENT TO HEAVEN
When a person attains victory over his physical senses and the evil tendencies of the mind, he rises up from a warrior (Kshatriya) to a perfect Brahmin and attains godhood in his next birth.
That state is jiwan-Mukti or the state of self-fulfillment and Fruition in life when he enjoys the peace and prosperity of Golden Age.
It is because of the forgetfulness of the knowledge of this secret that people wrongly believe that Pandavas i.e. Yuddhishtira, with his brothers, continued climbing up the Himalayas until uddhishtira at last was the only one to attain heaven, the rest having worn themselves out to death in the effort.
It may well be asked here if that was all the result from God, imparting Gita-Gyan, helping and guiding the Pandavas and establishing the reign of righteousness and virtue?
What is really meant here is that the ascent to heaven means the continued effort of imbibing divine attributes, practicing Yoga and attaining victory over the vices, lying hidden in their subtle from in the human mind.
This, surely, is an effort no less difficult than climbing the Himalayas. Thus, attainment of heaven has been compared here to climbing a high mountain, as it were.
Thus, in sum, Gita Gyan aims at purifying the mind-i.e. the thought, word and deed – of man, helps stabilizing him in soul-consciousness and God-consciousness, and inculcating in him divine virtues and a sense of propagating the Divine Mission among one's fellow beings.
With this end in view, we should renounce all worldly attachments and wage a war against vices.
Putting aside all doubt, hesitation, fear and sense of public approbation, we should try, through Yoga, to attain salvation and godhood – the highest aim of mans life.
---
If the 'True Essence of Bhagwad Gita' is read in this perspective, everyone will become Arjuna & can win over his/her own vices.
If anyone interested in acquiring further knowledge on the subject, and those who want to learn RajYoga Meditation & Experience 'GOD', can avail of free services being rendered by the Centres of Prajapita Brahma Kumaris Ishwariya Vishwa Vidyalaya in many parts of the world.
Meditate with us! At no cost AT ALL…& win over your vices
Also Read:
According to Gita - Enemies are Vices