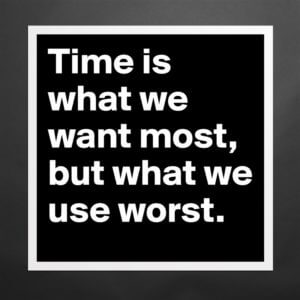 Time and Tide wait for no man, Time is Life and so, managing time is managing life. Our life is made up of so many thoughts, and so a thought is the smallest denominator of our time and life. Thoughts have the fastest speed known to man. Everything is just a thought away! The speed of light, considered fastest by science, is no match for the speed of thought. 
Effective time management depends upon proper understanding about the importance of time. Time is a unique resource and has certain unique features. Time cannot be saved or stored. If not utilized, it gets wasted.
Unlike other resources, it cannot be even replaced. It can't be substituted either. It is the only resource each one of us has in exactly the same amount. And remember, time always moves forward. 
How much a person accomplishes in, say a day, depends on how much he utilizes his time. By proper time management, he may be able to achieve as much as three average persons would. One important thing is to stop wastage. Time being a primary resource; those who waste time would also tend to waste money and energy.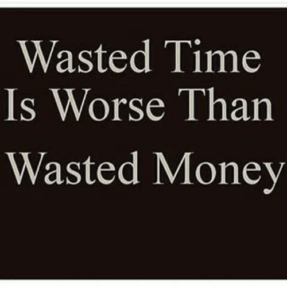 Some of the major time wasters are lack of planning, failure to delegate, interruptions etc. More subtle reasons are seeded in our own nature. Adoption of wrong values causes maladies like jealousy, hatred, anger and ego, resulting in time-wasting activity.
Wrong attitudes lead to carelessness and extroversion, causing laziness, failure, lack of enthusiasm, lethargy and procrastination.
Friends are also known to be stealers of time. Prejudices, dependencies, leanings, attachments as also worries and tensions leading to sickness of the body and mind also eat away a lot of our time. So do not put off till tomorrow what you can do today.
I would say, do not put off till the next moment what you can do right now particularly in our present times of uncertainty and sudden, untimely death.
TIME LOG

Better time management starts from knowing where time goes or how time is being spent.
Keeping a time log is a useful device for inner powers to rescue you from the mismanagement of time and discovering what is wasting your time. When you begin to keep an inventory of your time, you may have some surprises.
A time log can be simple but valuable tool. Keep a record of your time. Spend a few minutes at the end of each day for this purpose. The record so kept will give a more accurate indication of time usage
Evaluate and analyze your time. Where are you most effective in the use of time? Where are you least effective? Decide which areas need improvement in time management.
Set up a target for each day and list the targets you want to achieve and arrange them in order of priority and importance. Delegation is a wise tool for effectiveness. It not only frees you from trivia but is also a process of preparing people to take up higher responsibilities.
So, identify the time wasters, recognize the possible cause, and develop solutions. While time wasters are universal, causes must be identified within one's situation and solutions would emerge from one's own inner abilities.
Since most of our time wasters are the result of our own personality traits, Rajyoga meditation can go a long way to enhance your inner powers to rescue you from the task trap. It helps you to control your thoughts and you can observe any situation from a third person's point of view.
This will in turn help you to understand what lifestyle changes you need to make and develop effective solutions to manage your time and life both.
You can easily learn Rajyoga from the comfort of your house by watching videos or by attending interactive online seminars being conducted regularly by our experts or by visiting Brahma Kumari centers located all across the globe.
You can use any of the above mediums or all of them at no cost as we believe in creating a better world as guided by the Supreme Soul without wasting time.
---
Also Read:
Early Rising, Benefits of Wake up early