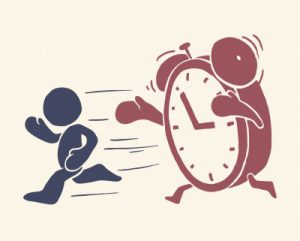 "It is well to be up before daybreak, for such habits contribute to health, wealth, and wisdom."
Truly speaking it is a very good habit to wake up at 3 a.m. in the morning.It is at that time you can experience stillness and silence in the atmosphere with a fresh and calm mind free from the worries of day-long occupations after a night sleep.
It helps to engage the mind in the sweet remembrance of God and to have focus in that blissful state at that hour so that one feels to have enjoyed enormously.
Though one may have to forego about an hour's sleep thereby, but the benefits one derives from this little sacrifice are considerably great and valuable. But, if for any reason, one cannot daily get up this hour, one ought to be up at 4 a.m.
if one is serious about getting near to GOD & feel that bliss so high and attainment by doing RajYoga meditation, one would have to find out some time for the necessary efforts and would have thus to get up betimes.
We can say with emphasis that, after a few days' sustained efforts, it would be possible and easy for a man to get up at the fixed time.
Rising early is also good for health. People who use to wake up early are fitter than the people who don't wake up early. It is very aptly put by Benjamin Franklin as well that "Early to bed and early to rise, makes a man healthy, wealthy and wise."
So, if one wants to stay fit and healthy, he/she has to follow the rule of the nature and body. Like birds and animals, humans are also part of nature and should follow the rule of early sleeping and waking up before dawn of the day.
To enlighten and rejuvenate one's mind, body and soul, one needs to exercise and practice RajYoga meditation.  To learn RajYoga Meditation at no cost, visit the nearest centers and open the doors of health and happiness for yourself.
---
Meditate with us! At no cost AT ALL… & learn the art of rising early !
Also Read:
How to Live in Present?