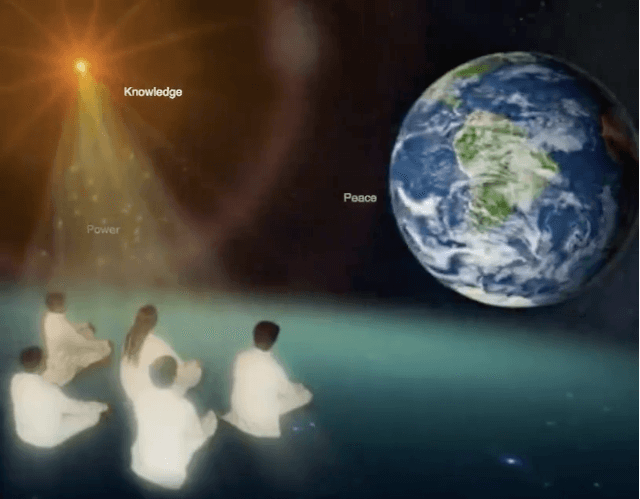 Strife and conflict dominate world headlines. Televisions and the Internet provide us with 24-hours, instantaneous news.
Often the news is all about violence, war and the conflicts of different kinds.
We all at times feel hopeless, overwhelmed and powerless or try to just bury our feelings which manifest in sleepless nights or when we are going through a stressed situation.
We all have to contribute bit by bit in order to maintain peace on our planet earth.
If you really get saddened and overwhelmed by the current state of affairs and wish to be part of the ones who bring change rather than wait for the change, join us and learn to practice RajYoga Meditation.
Through RajYoga you will not only bring positivity and good vibes in your life but also bring positivity in the atmosphere around you. You will be able to bring peace to others as well. Through meditation you will be able to reap following benefits: 
BENEFITS:
Lessens fear and anxiety


Promotes personal and world peace



Empowers when feeling powerless
PRACTICE:
Look for a quiet & peacefull place at home or outdoors. Sit in any way you confortable. Breathe deeply for a few minutes.


Think about a certain conflict that affects you. Now think about it rationally, without taking sides, favoring one warring group over another. Acknowledge that both the aggressor and those transgressed upon are suffering.


Generate the desire for all beings involved to heal their anger and pain.
Include yourself in the wish. Visualize a sacred being & God (A Point of light).
Imagine a cooling and healing white light emanating from that Point of light to you, filling your body and calming any anger or fear you may feel.


From your heart, send our light to those at war. Visualize that they have ended their conflict and are beginning to live in peace. End your meditation session when you feel ready
Meditation with a goal to bring peace on earth will send positivity to those who are in conflict and will also help you to combat the impact of the same on your life. You will be able to embrace the world with a better understanding and a balanced outlook.
We at our centers have helped many to look at an event from different prospective and then analyze the impact of the same on different people involved.
We teach people how to remain ineffective from the negativity around and spread positivity for the betterment of all without charging them anything.
---
Meditate more with us! At no cost AT ALL… & explore your inside Powers
Also Read:
How to do Meditation?