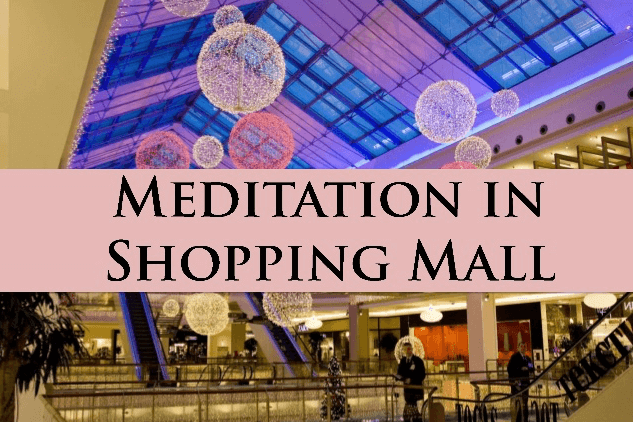 Yes, it is possible to meditate while shopping. It is a good place to become mindful of what you project onto objects. It is easy to assume that external objects are a key to our lasting happiness since that is what advertising tells us constantly. 'Buy this car and feel incredibly powerful', 'Wear this suit and become a company director overnight'.
We're all susceptible to this kind of pitch because we're all hurting inside in some way, and want to believe that something outside ourselves will take away the pain. But it is time to investigate the issue for ourselves.
Demonstrates that acquiring things does not bring happiness

Promotes mindfulness of motivations for consumption

Cuts down addiction to shopping and buying
Try this meditation when you are obsessed with buying things that you think will make you happy.

Go to a shopping center without money or a credit card. This visit is for mediation only.
Practice:

As you walk down the rows of shops notice the things that you would like to have.
Ask yourself why you want that dress.
Jacket or car.
Do you think it will make you feel better about yourself, perhaps more attractive?
If you buy that jacket and wear it, what do you think it will say to others about you?
What qualities and powers are you projecting on to the jacket?
Recall the last thing you really had to have and bought.
How do you feel about the item now?
Did it deliver all that you hoped it would?
Even though you were once obsessed with having it,
is it now buried in your closet, forgotten?
Contemplate the fact that all external things and experiences are,
by their nature, ephemeral unreliable and subject to change and decay.
They can never give you real happiness or heal your feelings of inferiority, loneliness or powerlessness.
Begin to assess everything you want to buy in this way.
Be sure to enjoy your possessions for what they are,
but don't project onto them more than they can deliver.
---
Meditate more with us! At no cost AT ALL… & Find the Happiness Within
Also Read:
What is RajYoga Meditation?