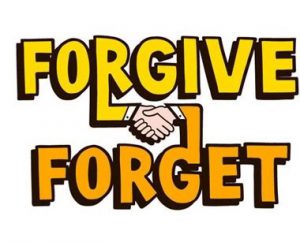 Milieus pass, they cease to exist but continue to be alive in our minds.
We keep recounting the stories and sorrows of the past.
We keep thinking as to how people were rude or insulting towards us or how the situations were unkind.
This constant repetition of past memories and experiences makes the painful effect to linger much longer even though we wish to be free from its burdens.
The more we think of past hurts,
the more it generates feelings of anger, animosity or even feelings of subtle revenge. Sometimes, people spend years nurturing feelings of bitterness and resentment for a particular person who has hurt them.
The only thing, it does is that it keeps the wound fresh and makes us heavy, in turn also effecting other relationships. We need to make a choice to either suffer or, move forward with what is good and look towards a better future.

We need to understand that we are all actors in this Drama of life and each one is playing his role according to his capacity. The best that we can do is accept the Drama and the other actor's part. It means we are able to see the other actors in different perspective and, we are able to forgive their mistake. This helps us to develop the capacity to accept, forget, forgive and learn.
Also, it is difficult to forget the mistakes of others because most of the times, we are busy correcting them even if it is in our minds only and that makes it difficult to forgive and forget. When we try to correct others, we try to control them even if subtly and, in those moments we forget to accept and forgive them.

But when we forgive, then we empower others with powerful vibrations and, the correction is automatically there.
---
Meditate more with us! At no cost AT ALL… & learn to forgive & forget !
Also Read:
Helping Others