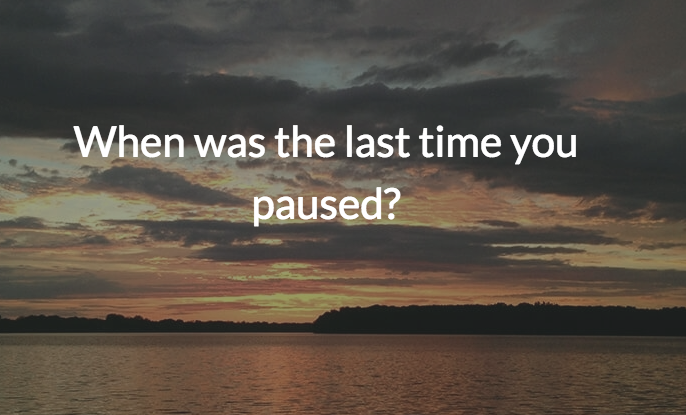 STOP FOR A MOMENT
We are living a fast pace life where we forget to stop and live the moment we exist in.
We keep worrying about either past or the future completely forgetting that we are ruining our present by doing so. We just don't live or admire the present moment we are living in.
If you wish to appreciate the beauty of the life, God has bestowed upon us…Just start with a simple practice of stopping yourself for a moment! 
Stop for a moment means; be aware of nothing else but the moment. Let awareness capture everything around you exactly as it is. Don't add to it, don't consume it, don't judge it, don't name it, don't even let it move you. Now in the Silence of the moment be aware of yourself. Let your thoughts melt back into your being. Be still, like a pond. Be calm. Be quiet... quiet... quiet.
Extend that moment of quietness into the utter silence at the heart of your being.
Allow the silence to grow and fill your awareness. Stay at the centre of that silence as the movement and the noise of the world continues around you. Watch through silent eyes, listen through silent ears and
speak only from the silence in your mind.
This practice of stopping for a moment and becoming aware about your existence, will cultivate your mind to live in present and understand the beauty of life.
It will help you to be one with your soul and mind. It will bring the much needed calmness and serenity in your life. As you cultivate this silence, gradually the toys of science will cease to attract and distract you.
The almighty wants us to become aware of his existence and work towards the strengthening of our relationship with him. We are living in this world with a bigger goal to achieve.
He wants us to be spiritually awakened souls who can travel with him to the Golden Age which will be home to only vice less souls.
If you wish to get the Godly knowledge and learn how to be one with your mind and soul, visit the nearest center. We teach easy RajYoga meditation and other techniques to get united with the Almighty.
When you return to this silence often, you will be refreshed and replenished.
Share the power of your silence to cool the fires in the minds of others.
---
Meditate more with us! At no cost AT ALL… & find silence within!
Also Read:
Meditate with Nature & Sky