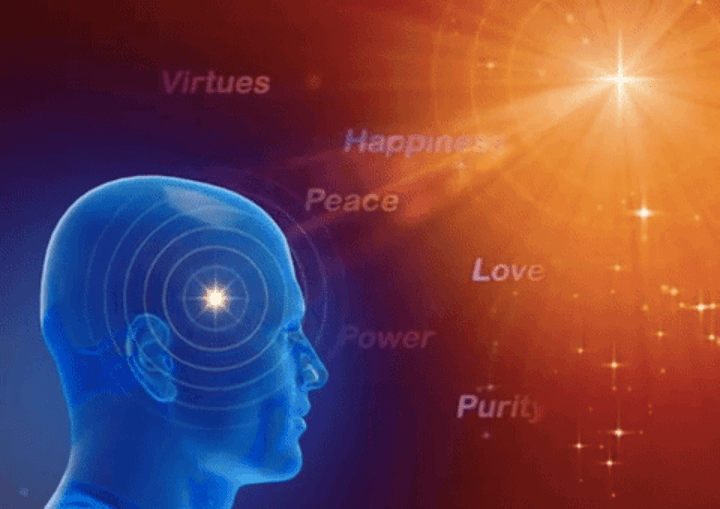 First and Foremost, sit comfortably keeping your back straight. You can choose to either sit on a cushion on the floor with cross-legs or, if this is uncomfortable, you can sit on a chair, just choose a quiet place away from noise or visual distraction.
Gentle background music may be played, as this helps to create a relaxed, light atmosphere, now read over the following words slowly and silently. Aim to experience and visualize the words in your mind so that you being to feel what is being described.
THOUGHTS FOR MEDITATION
Firstly imagine that nothing exists outside the room…
You will feel completely segregated from the outside world and free to explore your inner world….
You will turn all your attention inward, concentrating your thought energy on the center of the forehead…
You will feel a sense of detachment from your physical body and the physical surroundings….
You will become aware of the stillness around you and within yourself…
 A feeling of natural peacefulness begins to take over you…
Waves of peace gently wash over you,removing any restlessness and tension from your mind…
You concentrate on this feeling of deep peace…
Just peace….
You....are….peace…
Peace is your true state of being….
Your mind becomes very calm and clear…
You feel easy and content…
Having returned to your natural consciousness of peace…
You sit for a while, enjoying this feeling of calmness and serenity…
You need to plan such sessions where you repeat these or similar thoughts for around 10 minutes at least twice in a day.
The best time is in the morning before you start your daily chores just after waking up. Secondly, you can do it in the evening before you retire to the bed after getting over with your daily activities. Even during the day while doing your daily activities, you should keep reminding yourself that 'Peace is my true nature'.
As you keep practicing this meditation, such positive and peaceful thought will arise in the mind more and more easily, and peace of mind will become increasingly more natural. 
The key is to do it regularly and keep you motivated to remain positive and peaceful. Meditation opens new doors of enlightenment and awareness about your inner powers vested in you as human souls. You get closer to your real being and experience something which not everyone can do it.
If you wish to learn the art of meditation and how to be closer to the Supreme Father, visit any of the nearest Brahma Kumaris center located all across the globe. We have motivated and encouraged millions to explore their inner beings and find the real purpose of their existence on this earth at no cost. You could be the next one if you take one positive step forward to help your inner self.
---
Anyone interested in acquiring further knowledge on the subject, and those who want to learn Easy RajYoga Meditation, can avail of free services being rendered by the Centres of Prajapita Brahma Kumaris Ishwariya Vishwa Vidyalaya in many parts of the world.
Meditate with us! At no cost AT ALL… & Experience Peace, Happiness, Love, Bliss !
Also Read:
Guided Breathing Meditation