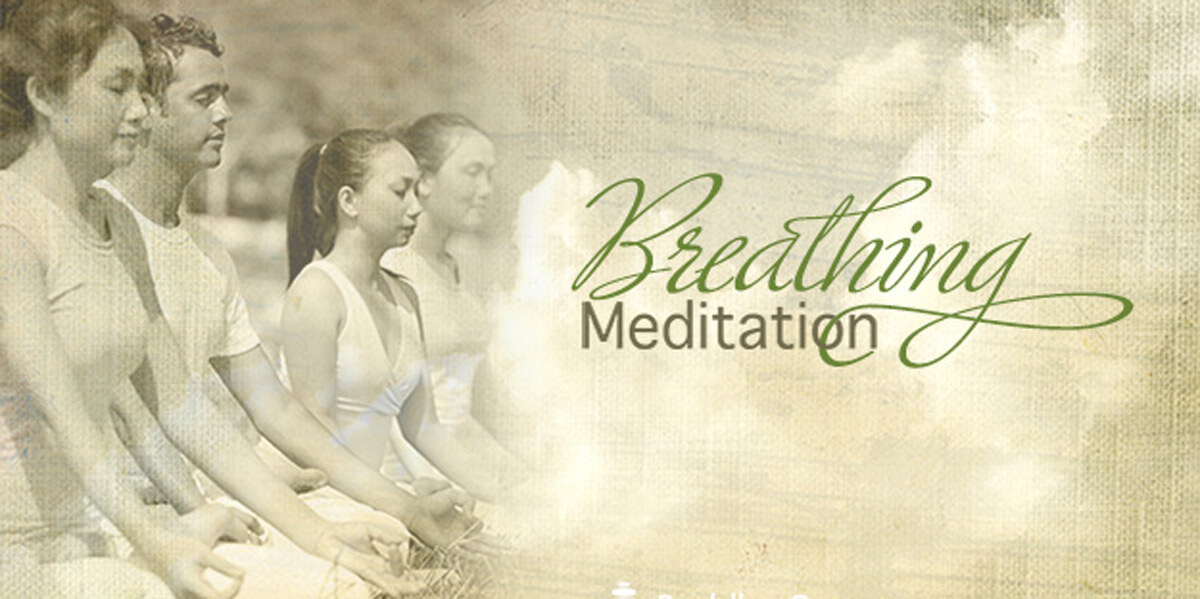 GUIDED BREATHING MEDITATION
This is one of the simplest of all meditations, yet one of the most powerful and rewarding.
Meditation on the breath on a daily basis provides a solid foundation for all other forms of meditation.
Benefits:
Reduces anxiety

Lowers blood pressure and heart rate

Reduces mental chatter

Increases mindfulness

Develops patience and tolerance

Promotes ability to focus the mind

Helps you concentrate on whatever you choose
The practice of meditating on the breath is thousands of years old.
Ancient Hindus and Buddhist meditated in this way to tame uncontrolled thinking, reduce negative thoughts and actions, and gain an understanding of spiritual truths.
Basically, you meditate on your breath in order to give you mind something to 'hang on to' when it starts to jump from one thought to another.
Training you mind in this way helps you focus on one thing at a time, and develops your powers of concentration.
It has a calming influence on your body and mind and is beneficial for reducing anxiety, lowering heart rate and blood pressure.
Whether your interest is in spiritual development or mental and physical health, breath meditation is one the best all-round meditation practices to start with.
It is normal to give your thoughts importance and equate them with 'truth' or 'reality'.
Yet, one day you may think a person is your enemy – full of faults and evil motivations – and month later you may have changes your opinion and now consider them a good friend.
Through meditation you will begin to experience thoughts as ephemeral and changeable, like clouds moving across the sky.
You will learn to loosen your grip on your thoughts and become more flexible and open.
When thoughts emerge in your meditation, label them as 'thinking' and return your focus to your breath.
when meditating on the breath, thoughts can pull us off track, But distractions can originate outside ourselves in the form of sounds, lights or smells.
Labelling them helps you return to focusing on your breath.
If you live in a city, you are probably used to an enormous amount of sensory input - radio, TV, billboards, cars, buses, machines and smells of all kinds constantly bombard you senses.
Learning to focus and calm your mind with breath mediation is a good antidote to sensory overload.
Labelling external distractions when they arise during your meditation will help you develop patience and tolerance for what goes on around you.
By labelling the distraction and returning to you focus on your breath, you intervene in your irritation.
you learn to calm your emotions and focus your mind, regardless of what is going on around you.
WHERE IS MY MIND NOW?
Your mind is amazing.
It can travel to the next room, to a city across the globe or into the past or the future in the blink of an eye.
The problem is, sometimes your mind seems to literally have a mind of its own!
You may have had the experience, while surfing the Net on a particular subject, of finding yourself at a website with no idea of how you got there.
In a similar way your mind can jump seamlessly from one thoughts to another.
You may be focused on a problem at work and in not time at all, you may find yourself thinking about something that happened at home last night.
You will be had pressed to trace how you got to what you are thinking about.
This meditation exercise will help you see how your mind works, help you be more conscious of what you are thinking and help you stay grounded in the present.
When to be done: Practise this meditation whenever you feel your thoughts are getting too scattered and disorganised.
For a more in-depth experience, practise daily, morning and evening, for ten minutes, Build up to longer sessions.
Preparation: Find a quiet place at home where you will be undisturbed. You will need a cushion or a straight-backed chair.
Wear loose-fitting, comfortable clothing. Create soft lighting and keep the room draught-free and at a comfortable temperature.
Practice:

Sit cross-legged on a cushion with your bottom slightly raised.
If you can't sit cross-legged, sit on a chair. Keep your back straight, your shoulders level and relaxed and your chin parallel to the floor.
Lower you eyes and focus about a meter (three feet) in front of you.
Rest your hands gently on your keens.
Breathe normally through your nose, using your abdomen rather than your chest.
Check your posture and relax any part of your body that is tense.
Begin counting your breath on each exhalation; when you reach ten, begin again.
Thoughts will intervene and when they do, simply let them go and return to counting your breath.
Meditate in this way for about ten minutes.
Try this meditation for a week.
See if you notice how changeable and ephemeral your thoughts are.
---
Anyone interested in acquiring further knowledge on the subject, and those who want to learn
Easy RajYoga Meditation, can avail of free services being rendered by the Centres of Prajapita BrahmaKumaris Ishwariya Vishwa Vidyalaya in many parts of the world.
Meditate more with us! At no cost AT ALL… & learn the most easiest - "RajYoga Meditation" which connect to the supreme soul !
Visit any 'Spiritual RajYoga Meditation Center' near your place today:
Centers in India & Centers in Overseas
Also Read
Live Lightly