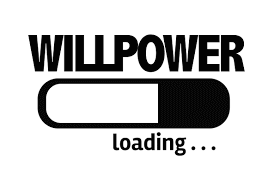 What is will power?
Before we talk about increasing or how to work on will power, we need to understand what it means.
Will power is the motivation that you need to exercise your will where 'Will' is the ability to make conscious choice.
Will power is the amalgamation of all your inner powers including tolerance, discrimination, concentration, judgment, and co-operation. If you have strong will power, you will be able to assert decisions even when others will contradict your will. A person with strong will power will never give in easily and stand by his/her decision even when he/she has to face strong opposition.
A strong-willed person is a reservoir of inner powers and can influence the life of people around him/her. If you have strong will power you will be able to carve your own future with your hard-work and persistence.
It is rightly said that 'where there is a will, there is way.'

As strong will power motivates you transform failures into success stories! A person with a strong will power when faces a situation, he/she will turn it into his stride versus one who is not strong willed he/she won't take much efforts to overturn the situation.
E.g. Sports persons endure the hardships of the training with strong will power in order to be close to their final goal.
Will Power is not a physical power to be acquired by any material means. Willpower plays a vital role in our life and attaining a strong willpower mindset is a journey, not a leap. You need to eliminate any kind of negativity from your mind in order to increase will power.

You have to control what you feed your mind. Once you start working to eliminate wasteful and negative thinking, you will automatically see increase of positive thoughts in your mind.
However, if the will power is weakened, there will be an increase in the negativity around and you won't be able to achieve your desired goals. The moment you lose motivation, you will be surrounded by the negative thoughts all around.
So, how to go about it?
Just as negativity reduces will power, it is positive thinking that generates it.
You need to practice meditation through easy RajYoga method in order to keep negativity at bay! You have to inculcate the virtues like humility, detachment, contentment and compassion in your daily life.
A simple life-style, purity of food, good company, and becoming a well-wisher of all will help you do that. Once you visit our nearest center, you will know that it is the right place with right people who will guide you to walk through this beautiful journey of life with lot of inner powers to help and heal yourself and others around you.
---
Meditate with us! At no cost AT ALL… & download your will power at high speed !
Also Read:
Why Worry?