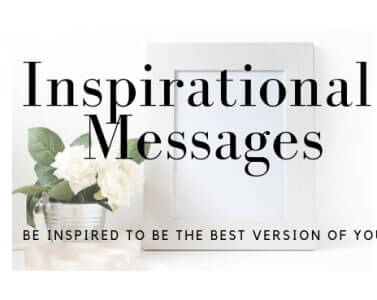 Reading Inspirational Messages...
But...
Are we changing?
Many of us like these Inspirational & Motivational messages, feel better for a while and then forget them forever. We don't grab them. We never work on them & take it for granted. We don't realize the incredible, divine, heavenly, transforming value of them.
They are like a wind that blows over our heads and moves our hair a bit. But then the wind passes by and we haven't been changed.
We feel just as miserable as before. Then we need another word to make us feel better again.
Let's be wiser with us.
See the tremendous power in the words you receive and let's begin to work with them. Print the messages. Read them aloud and repeat them. Read them again over the course of days and weeks. WORK WITH THEM.
Be awake and realize the amazing wealth of what you receive. See the incredible value of it. And work with the messages. Look for ways to implement into your life.
There are two people when it comes to such Motivational messages:
Those who hear and do & Those who hear and don't do.
The first group grows closer to success, fruitfulness, healing, joy, and destiny. The other group stays where they are. Be part of the first group. Be a royal being.
But you have to take steps towards your calling. You have to make decisions. You have to change your life according to the words.
Don't just use it as a soothing cream for a short moment, after which you forget all about it, you'll never move forward.
Print the messages that touch you. Keep them. Read them again. Find ways to do & implement into your life, see it as what it is: Maybe a divine treasure given freely to you.
Value it, grab the full power of it, LIVE WITH IT.
---
Meditate with us! At no cost AT ALL… & learn to Change more!
Visit any 'Spiritual RajYoga Meditation Center' near your place today:
Centers in India & Centers in Overseas