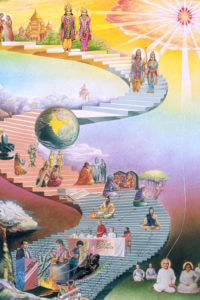 The LADDER represents the descending and ascending stages of  human souls through time. Souls begin their journey in this world at the top of the ladder, as human beings with divine qualities, living life on earth in complete peace, happiness and harmony.
When the soul first comes from the soul world, it has a character of gold. The actions taken were always elevated. However, as the quality of the world begins to weaken, character weakens and innermost thoughts become less than charitable.
We see the weakness and faults of others. we are disappointed and offended by others. We become critical. For centuries, we stumble along acting out of our lover nature as if in a deep sleep.
We never lose our innate values and qualities, but we lose our belief that they belonged to us.
We lose our access to them as souls slowly descend the ladder, the innate goodness and purity of the original self is lost, along with happiness and an overall state of well-being. At the bottom of the ladder, life becomes full of sorrow. Then souls begin to awaken to their story, enlightenment begins, and souls are then uplifted back to their original state.
Most of us, at this time having reached the 'bottom of the ladder', are attempting to ascend through the 'external' ladders of career, relationships, status, and power. Despite so much effort, most still feel less than satisfied, the solution, many of us may think, is to double our efforts or, conversely, we become distressed and depressed over the seeming lack of success in our efforts to climb life's many 'ladder.'
Perhaps we are climbing the wrong ladders, or do they lead to illusions of power? Now is the time to CHANGE LADDERS.
---
Meditate with us! At no cost AT ALL… & begin your journey!
Also Read:
Picturesque Golden Age