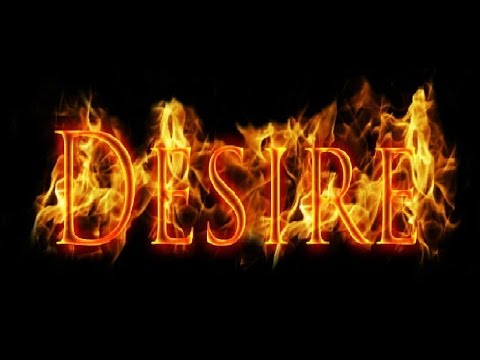 It has been observed that,
'The earth can provide enough for everyone's needs but not for everyone's greed.'
Desires veil integrity and make you believe that the negative is good.
They delude you so that false appearances seem real; a common delusion is that a person mistakes lust for love.
Desire has repeatedly been identified in most religious scriptures as the source of that which is negative.
It is also deemed insatiable.
Warnings in religious scriptures against giving in to the temptations of physical desires and attractions imply that you lack integrity because you have desires, so people try to suppress themselves or others.
Suppression of desires is itself a form of violence against the self. Resisting a desire by suppressing it is counter-productive as it gives power to the desire and you find yourself in a losing battle.
'For a man dwelling on the objects of the senses, An attachment to them is born; From attachment, desire is born; From desire, anger is born; From anger arises delusion; From delusion, loss of awareness of wisdom; From loss of awareness of wisdom, destruction of discrimination; From destruction of discrimination, integrity is lost.'
Desire is the term often used to refer to an inner force or energy that is intensified when a person is spiritually weak.This force is deceptive because in body-consciousness the energy manifests itself as bodily urges and hungers.
There is the feeling and conviction that the inner need would be satisfied by material things.
Fulfilling physical desires has become a substitute for quenching the hunger of the soul that needs to be filled with the energy of the Supreme Being. Thus the problem of spiritual emptiness remains regardless of how many material desires are fulfilled.
Meditation on the Devine fills your spiritual emptiness, increases you spiritual power, refines your ability to discern and facilitates the development of your integrity.
One of the best ways to deal with desire is to reframe it and identify it as something that wants you rather than something that you want. When you cultivate a neutral attitude you diminish its power and so your resistance is successful.
External moral authorities have identified people as essentially negative and weak,
whereas the problem is that people are strong from inside but have grown spiritually empty and thereby unaware of their hidden powers of virtues & qualities.
The solution lies in giving time and attention to feeding the hungry soul through repeatedly focusing on your positive, innate qualities. Spiritual depletion is indicated by the ten weaknesses listed below:
| | |
| --- | --- |
| Greed | Lust |
| Anger | Attachement |
| Ego | Jealousy |
| Slander | Laziness |
| Fear | Hatred |
These are also traps. In order to get free from these traps as mentioned above one needs to feed positivity to the soul.
If you wish to learn how to cope up with the desires and be in connection with the Supreme Soul, learn to meditate with the help of easy RajYoga Meditation at our various centers located nearby you.
We have helped millions to find the way to retain and regain their integrity and get free from worldly desires which is the only way to get united with the Supreme Father.
---
Meditate with us! At no cost AT ALL… & get rid of these traps
Also Read:
Root Cause of Peacelessness